Advantages for Buyers and Sellers in Today's Housing Market
Posted by Cesar Sanchez on Friday, April 2, 2021 at 3:18 PM
By Cesar Sanchez / April 2, 2021
Comment
As it stands the housing market has numerous opportunities for both buyers and sellers. It does not matter if you are trying to buy your first home, selling to downsize this spring, or moving to a bigger property, there are advantages today that are enabling huge moves for people across the nation! We broke down the top two perks to keep a lookout for this season.
The Biggest advantage for Buyers: Low Mortgage Rates
The most enticing incentive is how low the mortgage interest rates are. The current 30-year fixed-rate is averaging just over 3%. Now of course that is a bit higher than the record breaking lows from 2020 and even earlier this year, however, it is vastly lower than what it usually is historically. This makes buying a home now not only more feasible but also gratifying to know that buyers are already saving money on mortgage interest rates alone (see graph below):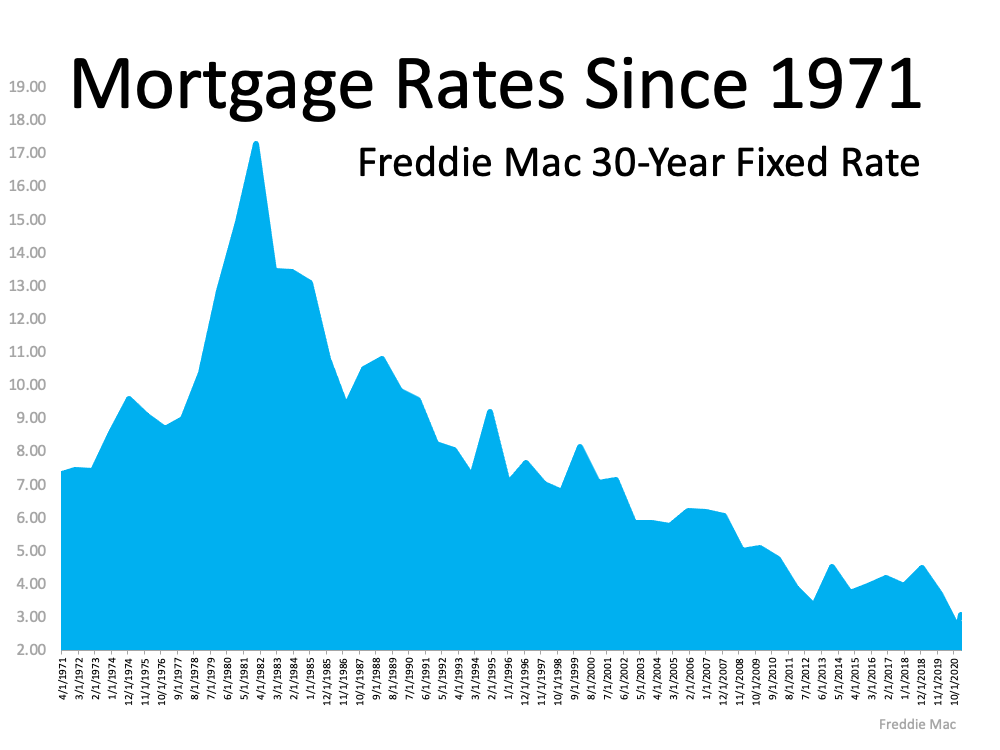 There is a reason as to why this is a huge advantage for buyers in terms of home-ownership. The latest Homeowner Equity Report from CoreLogic illustrates how homeowners noticed significant gains in their net worth last year which is attributed to owning a home. The President and CEO of CoreLogic, Frank Martel, puts it best when he states:
"Positive factors like record low-interest rates and a booming housing market encouraged many families to enter home-ownership. This growing bank of personal wealth that home-ownership can offer was noticed by many but in particular for first-time buyers. As a result, we may see more more renters start to enter the market in the near future."
Although low mortgage interest rates are an obvious benefit for buyers at the moment, experts are projecting interest rates to continue to rise as we progress further into 2021. Hopeful buyers that are ready to purchase a home should get started on the process soon to take advantage of today's comparatively low interest rates.
The Biggest advantage for Sellers: Low Inventory
As many of us already know, there are simply not enough houses on the market to suffice the number of buyers that want to purchase. This in turn creates a seller's market as we have been noticing. Danielle Hale, the Chief Economist at realtor.com states "Total active inventory continues to decline, dropping 50 percent. With buyers active in the market and sellers still slow to put homes up for sale, homes are selling quickly and the total number actively available for sale at any point in time continues to decline." (See map below):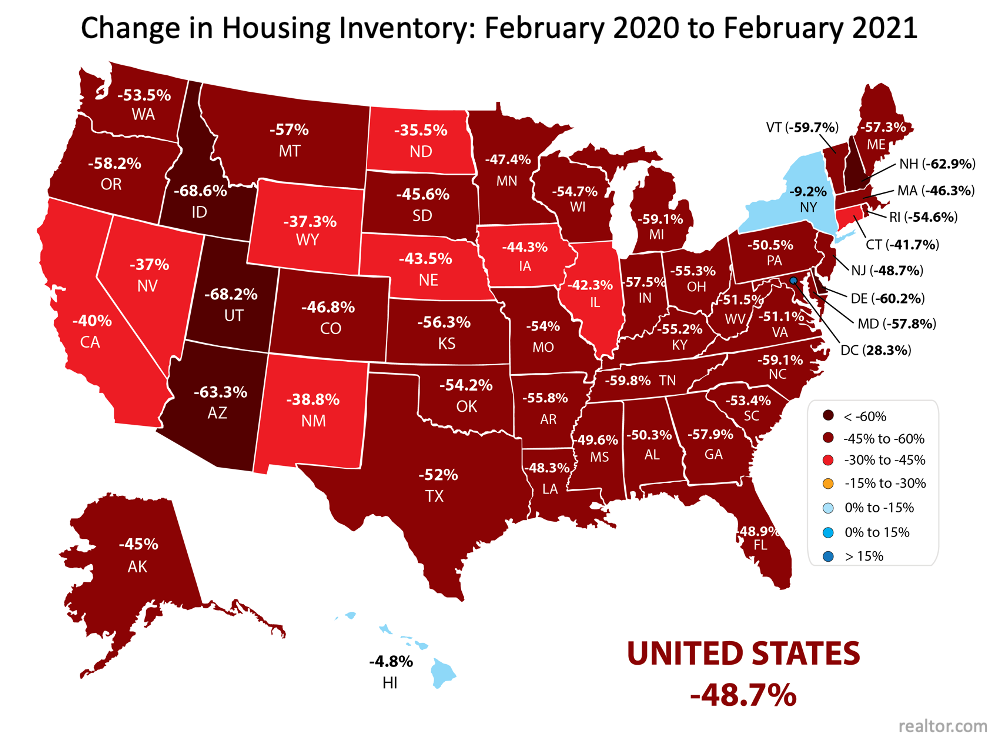 The low inventory of homes has created a continuous challenge to the housing market. Couple this with the low mortgage interest rates where buyers are eager to purchase and this results in homes being difficult for buyers to find today. The National Association of Realtors (NAR) found on their latest Realtors Confidence Index Survey that **the average home is getting roughly 4.1 offers and is only on the market for about 20 days.
This clearly indicates that buyers are certainly eager to purchase, and since there currently is a shortage of inventory available bidding wars are commonplace for the state of the housing market. This is a dominating factor as to why the housing market continues to bolster strength in home prices and gives sellers commanding leverage within the negotiation process.
If you own a home and are in a position to sell then you should not wait to make your move. As a seller with today's housing inventory shortage, listing this season places your home in extremely favorable conditions in regards to placing it on the market. This relationship of low inventory and high buyer demand allows homeowners today to potentially earn an even greater profit on their homes and for them to sell quickly in this fast-paced market as well.
In short:
Whether you are looking to partake in buying or selling a home, there are clear advantages on both sides of the coin in today's housing market. Feel free to reach out so that we can go over how these favorable conditions can work out to your advantage within your area today!
Phone(407) 410-4105

Email[email protected]

Address Cesar and Magda
SL3272476 & SL3284287
Nona Legacy Powered by La Rosa Realty
8236 Lee Vista Blvd Suite D Orlando Fl 32829
Orlando, FL 32829