Buy your New Home: 10 Easy Steps to Make it Happen
Posted by Cesar Sanchez on Thursday, November 9, 2017 at 1:15 PM
By Cesar Sanchez / November 9, 2017
Comment
Are you planning to buy a home and don't know where to start? Here are some simple steps you can take right now to make your home buying process not only less frustrating but actually enjoyable.
Once you, and possibly your partner, have decided that you want to go ahead and buy a home you can start right away with step 1.
STEP 1. Get Preapproved
Although many experts will tell you to do some research first, in reality the best thing you could do is getting preapproved by a qualified lender. This will help you achieve two main things:
1. You'll be able to determine whether you qualify for a loan or, if not, take the necessary steps to determine what to do to qualify in the near future.
2. You'll know how much money you qualify to borrow for your home and the maximum price to look for.
This might impress you as you may qualify even though you may think you don't and save you countless hours looking for homes you may not qualify for.
Getting approved is a simple process that requires a lot of paperwork. But the sooner you do this, the easier it will be to proceed with the next steps to buy your desired home.
If you need a qualified lender we recommend Embrace Home Loans. You can apply online here.
Cost: free
STEP 2. Get Informed
This does not necessarily means getting online and do hours of research, although you can if you like as it may give you some awareness of the process. But research will only take you so far. The best choice is to get a free consultation with a Real Estate agent to receive expert opinion not only about buying a home but about your particular and specific situation.
I cannot stress this enough: Research online will give you general knowledge about the process of buying a house. A real estate agent will tell you exactly the best strategy available for you to buy your next home at the least cost and with the least effort. Not only you get the benefits of this but you also do not have to pay for this service. Makes an obvious choice of action, don't you think?
If you want to discover the best strategies available for you at no cost fill the form below to schedule a consultation.
Cost: free
STEP 3. Set up automatic updates on homes
Once you meet with your realtor and you have explored your possibilities and decided for a particular strategy to buy your home, it's time to start looking.
Realtors usually use a centralized data base called MLS that holds all properties for sell or rent in a specific area and allows them to perform searches based on certain criteria.
Now you can access this information by visiting this page http://www.cmflhomesgroup.com/property-search/search-form/ that pulls the information directly from the MLS. What's best is that, if you register, you can save your searches and be one of the first to have access to new listings base on your criteria.
Cost: free
STEP 4. Visit Properties
You will select your preferred homes in the last step which will allow you to visit those homes you are most interested in. Talk to your Realtor about those homes to get his take on the home, area and other factors.
When you visit the homes watch out for red flags such as just painted ceilings or structural problems. Your realtor will be able to spot those problems with ease which is very important that you have an experienced realtor.
Cost: free
STEP 5. Make an Offer
Once you find the one, your realtor will guide you to elaborate an offer that indicates your interest in the property and how much you are willing to pay for it.
If you offer to low you may lose the house to another buyer. If you offer too much you may end up paying too much for what you could have get it for. There are other factors such as target closing date that also weigh in on the decision of the seller to accept or reject your offer. Your realtor will guide you through this process as well by offering you an CMA which is an analysis that compares the values of similar recently sold homes in the area.
Cost: free
STEP 6. Agreement and Contract
If the seller accepts the offer, this document now becomes a binding contract for the sale of the house. It's time to deposit earnest money to hold the home. This deposit will be later be use as part of the down payment on the home.
Cost: free
STEP 7. Inspecting the House
As with all purchases you probably want to make sure that what you are buying is in good conditions and, if something isn't, you want to know why not and how much it cost to fix or replace.
This is the work that an Inspector does. Verifies all physical conditions of the home and present a document that shows which are ok and which requires attention. Depending on the terms of the seller they may be willing to fix but there is no guarantee.
Cost: $250-$575
STEP 8. Appraisal
Lenders require appraisals when buyers use their new homes as security for their mortgages. A real estate appraisal is process to establish a property market value. They are detailed reports compiled by licensed appraisers.
If the home appraised below the price offered, your realtor may be able to negotiate a better price. If the appraisal comes out with a higher price than offered you have won equity without even closing the deal yet.
Cost: $450-$500
STEP 9. Closing Disclosure
After appraisal, the lender will send you a Closing Disclosure at least 3 business days before closing date. This is a form that provides final details about your mortgage loan including projected monthly payments, fees and other costs to get your mortgage.
This three-day period allows you time to compare your final terms and costs to those previously estimated from the lender. The three days also gives you time to ask your lender any questions before you go to the closing table.
Cost: varies depending on your loan
STEP 10. Closing Day
After you get green light from your lender to close, your realtor will take you to do a final walkthrough in the home before the closing date. This is to ensure that everything is order and nothing has changed since the inspection.
After the walkthrough comes the closing date where the seller signs documents that transfer the home ownership to you and you sing multiple documents related to the loan and home ownership.
After this process, you are finally given the keys to your new home. Congratulations!!!
Cost: safe to assume 5% of the home price
---
Click on the infograph below to see the complete process from preaproval to closing date.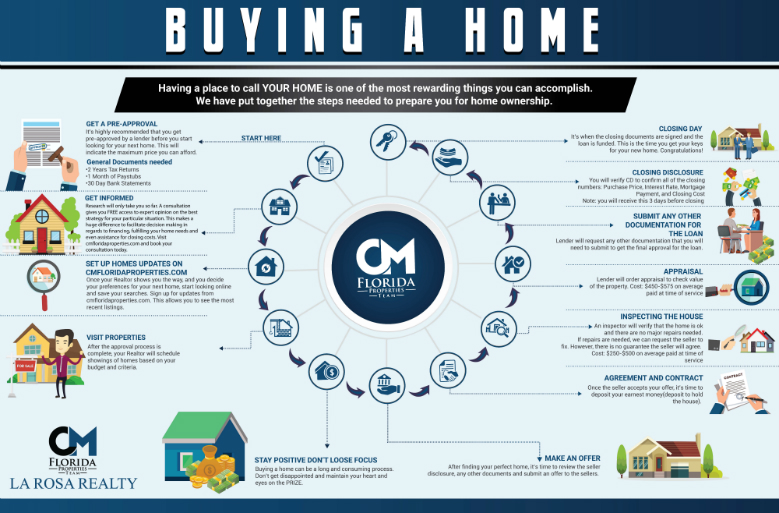 What do you think of this process? Do you have any doubts? Please leave your comments below.
Schedule your consultation today